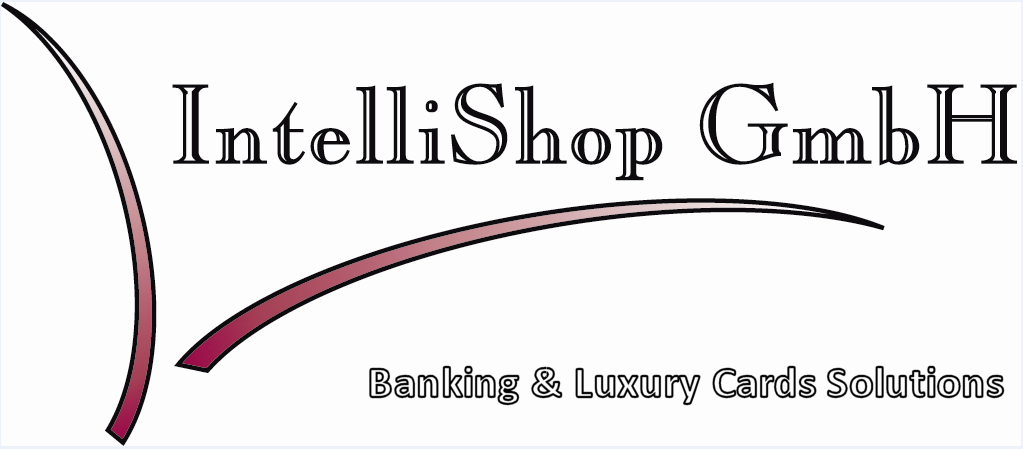 New ideas help to further evolve the cards business.
Classical Visa & MasterCard Payment Solutions:

- We offer the full portfolio of EMV Chip based VISA, MasterCard cards
with our certified card manufacturer partners accross the world.
- Classical Payment cards

- Personalization Solution & Services
- EMV Chip Modules
- Mobile Payment Solutions

Luxury Cards: (Loyalty, VISA, MasterCard)
We are specialist in embedding Juwellery like Swarovski stones or true Diamonds
in cards bodies for EMV banking cards as well as for Loyalty Cards.
Not only we do offer our solutions directly to banks, but leading card manufacturers
are working together with us to offer you cards with embedded jewellery.
A team of worldclass experts in design, arts and jewellery will be working with you to complete your
unique VIP - Luxury Cards projects.
We will help you to manage your complete luxury cards project.
Our embedding solutions have been fully tested and approved by VISA & MasterCard with
select card manufacturers

EMV Chip Solutions & Personalization Solutions:
We offer one of the most complete and flexible EMV Chip portfolios and supply best quality cards and services.
Together with our network of certified card manufacturing partners we guarantee not only Swiss quality, but also
best price / performance across the world!
We will be glad to discuss your needs and projects,
Looking forward to hearing from you!
Sincerly yours,
Moritz Wittwer, CEO IntelliShop GmbH

Tel.: +41 62 873 43 23 Mob: +41 79 253 43 66